Oral Health Month Activities
October 1-31, 2021
Be Proud of Your Mouth
Each year, October is observed as Oral Health Month in Jamaica. In support of the National Programme, the Jamaica Dental Association has partnered with the Ministry of Health and Wellness to advance the theme "'Be Proud of Your Mouth". It is an opportunity for the Jamaica Dental Association to place the focus on the prevention of oral disease and to promote the benefits of good oral health to children and adults. We want everyone to value their mouth and take care of it. This year, the Jamaica Dental Association has selected the following activities to commemorate the month with due consideration to the COVID-19 protocols in place.
Dental Health Screening Outreach Programme | October 1-31
To support its Dental Health Screening Outreach Programme, the Jamaica Dental Association members are expected to provide in-office treatment to over 1000 children from children's homes and schools across the island. Dentists will perform preventive procedures, examinations, cleanings, and screenings free of cost. Additionally, dentists will give educational talks on oral health to school using online facilities. The dentists will share information on proper brushing and flossing techniques, proper nutrition, and the importance of regular visits to the dentist. Dentists will target the Schools, Homes, and Infirmaries in the areas where their offices are located.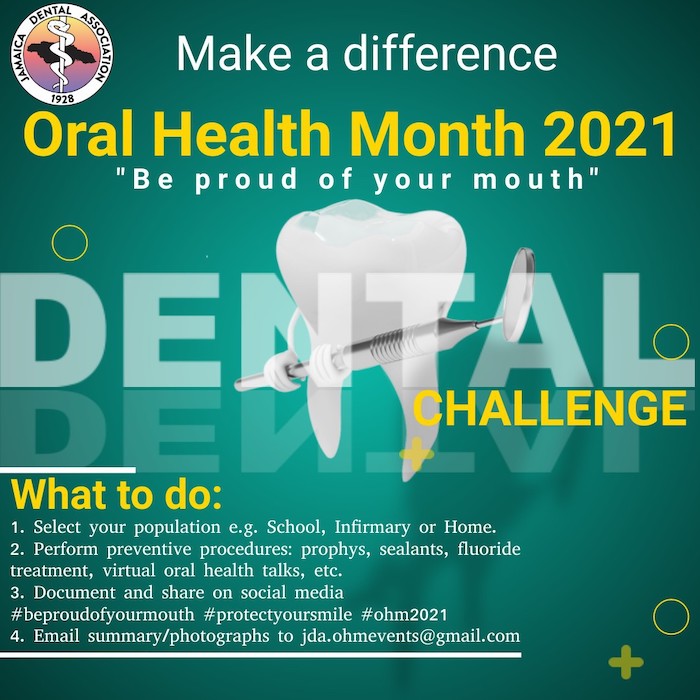 PUBLIC EDUCATION PROGRAMME |October 1-31
The Jamaica Dental Association continues its Public Education Programme on Oral Health. We are partnering with corporate Jamaica and the media to educate the public about improving and maintaining oral health. Dentists will appear on radio and television programmes to address dental care for the entire family.
ORAL HEALTH MONTH WEBINAR | October 24
The Jamaica Dental Association will host the Oral Health Month Webinar, a virtual Continuing Education forum aimed at developing health professionals who will maintain and improve the oral health status of individuals and our country's population. We are targeting dental surgeons, dental nurses, hygienists, dental assistants, and other allied health professionals in public and private sector facilities. The presentations will cover Ethics, Patient Communication and the Management of Mask Mouth. The speakers are Dr William Griffin, VP Dental Ministries, Christian Medical and Dental Associations, Tennessee, Dr Tanya Matthew, Research Specialist, Ohio State University and Dr Denise Young-Brady, College of Oral Health Sciences, University of Technology, Jamaica.
Registration for the Oral Health Month Virtual Event
DATE: Sunday, October 24, 2021
TIME: 3:00 p.m.- 6:00 p.m.
"Be Proud of Your Mouth"
3 CE Credits
Sponsor: MSN Pharmaceuticals
OHM WEBINAR SPEAKERS & TOPICS
Dr. Tanya Mathew
Topic: "Psychology of Patient Communication"
Dr. Denise Young-Brady
Topic: "The Management of Mask Mouth"
Dr. William Griffin
Topic: "Dentistry: Blessings and Challenges"